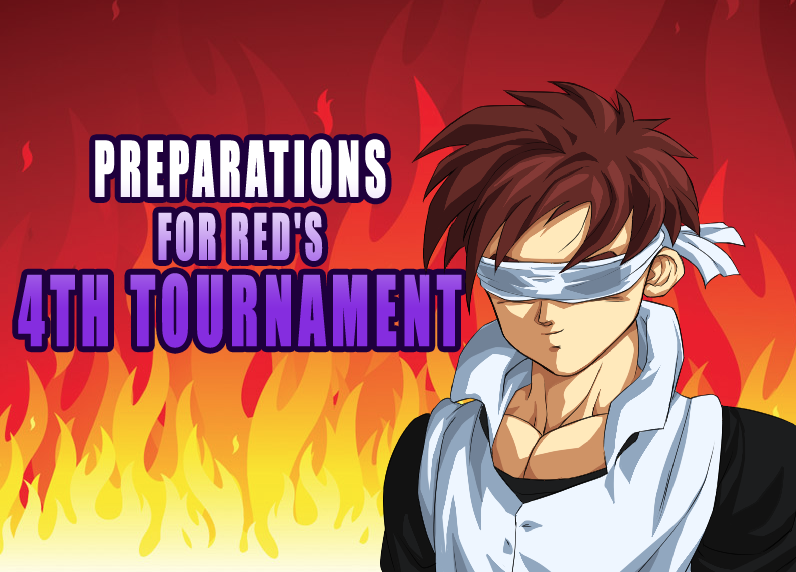 Preparations for Red's 4th Tournament
"Say whaaat?!" "How?!" "When?!" "RED!" Say no more. We are going to have a quick update about Red's 4th Tournament. Yes, it's happening. No, it's not now. But we need to start prepping for it, and for good reason.
Why do we need to prepare?
This tournament is going to be BIG. Probably the biggest one in terms of the size of the actual ring, the story, and the quality of sprites.
Take that in for a second, "quality of the sprites…" That means we need some AWESOME looking sprite submissions. This also means, only the BEST looking sprites will be selected for the tournament. So if you're new to spriting and or spriting in the LSW style, NOW is the perfect time to start honing your skills and practicing before I make the announcement. I'm helping you out now by making this post; as I know how hard it can be to find help.
Resources
Here is a link to a base LSW sprite sheet, that was made by Luka some time ago. You can use this base as a good starting point for making your own LSW sprite sheet.
We also have some individuals who have expressed interest in mentoring to those seeking to learn more about LSW sprites and how to improve there LSW sprite designs.
Phanny and Rez, teammates who won the last tournament, are currently members on the site and are willing to assist with revamping sprites to make them look more polished/modern. This does not mean they will create an entire sheet for you, but they can assist with a base pose. Here is a link to Phanny's Revamp Shop. Rez, also has a workshop over in the forums. Check out Rez's thread here.
Anase Skyrider (Koba) and Blastrider (Frootloops) also participated in the last tournament. These guys are also available to assist with spriting poses. However, you should first contact Phanny or Rez before you contact Anase or Blastrider. Again, everyone mentioned here will NOT create an entire sheet for you. They will only assist with helping you revamp a single pose and potentially other small edits to sprites. The best way to contact these individuals is on Discord: Anase Skyrider#0563 and Blastrider#8471
Lastly, if you have a Discord account, you can find the DBZ Vortex chat here. A good portion of the members have entered past tournaments, and a good portion of active users are very good at spriting. They might be willing to assist, if you ask nicely.
Revamps or not?
One thing I want to make very clear, when I officially announce the 4th tournament, is that you DO NOT have to revamp your character sprite if you've submitted to Heroes of Pixtopia or Red's LSW Tournament in the past. That means, you can submit the same sprite sheet you submitted before if you think it is still good enough. I would encourage you to redesign/revamp it, however it is not required.
All About You
Remember, for every tournament I hold (past, present, and future) you're submitting an LSW sprite design of yourself. That means the sprite you submit to the tournament, MUST be a design based off you.
Wrapping up
Again, this is a post to help you get started. I haven't made the announcement for the tournament yet. I also haven't even started the Official Rules and Submission guidelines document. That means you guys don't know how many poses you will need, and other important information in addition to that. So hopefully you find all this information useful and can start polishing your skills before submission. When I do make the announcement, you will have plenty of time to start creating your sheets, but getting a head start now on the information I have provided should be beneficial.
As always, leave a comment below if you have questions. Let me know if you plan on entering as well. Good luck!