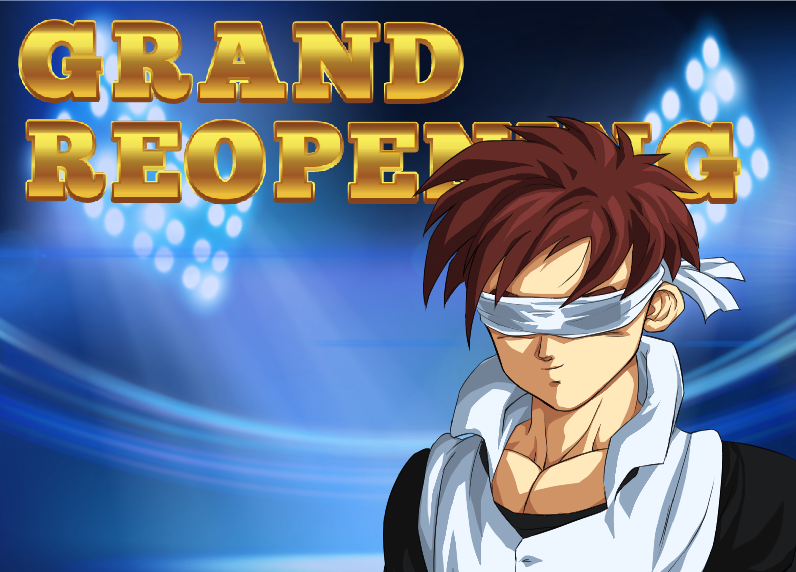 Grand Reopening
It was only a matter of time before I got around to getting back on here. How goes it redheads!? So happy to have the site up and running again! This is a special occasion, and it's time to celebrate in style. In honor of getting my website up, I got some AWESOME goodies for everyone! So why are we wasting time? GO GO GO!
No time for formalities around here! Let's get started with some of these awesome goodies I have for everyone. First things first though. If you haven't already, join my website. It takes only a few minutes. Joining the website grants you access to the forums, posting comments, the ability to customize your user profile, and earn achievements throughout the website. Let's break that out below.
Forums
You read that title correctly. Forums are up and running! After many years of rumors about a forum, you can now join the community and meet new folks. The forum has rules, so please ensure you read them and adhere to them at all times. We have a few Acting MODs and myself who will be keeping an eye on things. Don't be scared, we won't bite. Just do your best to follow the rules and everyone is happy. The forum is pretty basic, I set it up that way on purpose. As the site grows, and we continue to get more members, I'll be releasing more features.
Forum Ranking System
Active members who post in the forums will level up based on how many posts they have made. Every time a user posts in the forums it gets added to the total amount of posts a user has made. Once a user gets to a certain number of posts they will level up in rank. Currently we have seven levels of rank. I heard a rumor about a secret eighth level… Who's going to be the first to see if that rumor is true?
There is also two special ranks given to Admins and MODs. More special ranks will be available later to users who have contributed in someway to the website. Below are the first three ranks.
Please note that any attempt to spam the forum with posts in order to gain higher rank quickly will result in an immediate ban. Always post thoughtful well constructed posts.
Achievements
Are you a hoarder? Do you like collecting things? Well, I had this awesome idea. What if my website had a way for users to earn achievements? This would in-turn mean a lot of things:
Users would want to come back to earn more achievements and show off what they have accomplished
It would keep them engaged in the website and it's content (past, present, and future)
The site would be somewhat unique and I would be able to come up with some awesome achievements for all of you to earn
Earning achievements is easy. As long as you are a logged in member of the website, you are able to earn all the achievements I've come up with. So how many achievements do we have and how do you earn them? Mostly, it's a secret. Currently, we have over 12 with more on the way. Achievements are earned by accomplishing certain tasks on the site. Commenting a certain amount of times on blog posts, posting in the forums, etc… These are all examples of how achievements are earned. There are also specially awarded achievements that are given to members for being an outstanding user. More on that later.

When you have earned an achievement you will be notified in the upper right corner of the screen. Your first achievement is unlocked simply by joining the website (example above).
I have a lot of future achievements planned, however for now I only have released a few while I try to get up to speed with other priorities on the website. You can view what achievements you've earned by viewing your profile. Viewing other users achievements by viewing their profile. Lastly, you will also see your achievements on the sidebar to the right. Speaking of sidebars…
Temporary Sidebar
You may have noticed this pesky little sidebar on the right side of almost every page (save the forum). It's a simple way for you to view your last five earned achievements, view your profile, and logout of the website. This sidebar is only temporary and I'll be removing it in the future. To take its place, I'll have a more simplistic top aligned user navigation coming out, sometime in the future.
Store
Remember like 6 years ago, I mentioned something about having an online store? Wasn't that great? NO! It took me six years to get to it, that's no good. So now that I've redone my website, it's time to implement the store once and for all! Only, I didn't have the time to code out everything for it. So I'm using a third-party site temporarily to sell some awesome goodies. Check it out here. Any purchase you make is greatly appreciated. I'll be releasing special t-shirt designs later in the future. Be on the look out for that!
Resources
While I'm still planning out my new tutorial series, I've decided to do more Effect Packs. Only this time, no crummy .WMV files. All effects you snag from me from now on will be high-res .PNG sequences for Flash users, After Effects users, and everyone else in between. I currently have three free effect packs that are out. I reworked the Basic Dust Pack and created two brand new basic effect packs as well. More to come later, check these guys out here!
My thoughts on the website
I'll continue with updates and routine maintenance/security checks. Still working on a lot of things on the back-end. You may see some visual changes on the site from time to time. While I've designed and coded a lot of websites in my time, this one unfortunately is not my best work. I didn't have as much time as I'd like to spend on it, but I have features planned for later I will roll out with including cleaning up that sloppy code on the back-end.
While the site is still being worked on, I wanted to ask everyone to please bare with me while I work out a lot of the technical difficulties. I have a lot to work on still for both the front and back-end of the website. It's been a very tedious and exhausting past few months while trying to stabilize load time, functionality, flow, and other variables getting this site to work properly.
If you happen to encounter an issue, bug, or other technical difficulty; please post a comment below. Alternatively, you can post in the Forums in this section. If you can provide a screenshot and brief description of what you did and how you found the issue, that would help me out big time. I will try to get to all issues eventually.
What are your thoughts on all this? Let me know in the comments below!
I'm really excited for the future and you should be too! Looking forward to talking with you all soon!