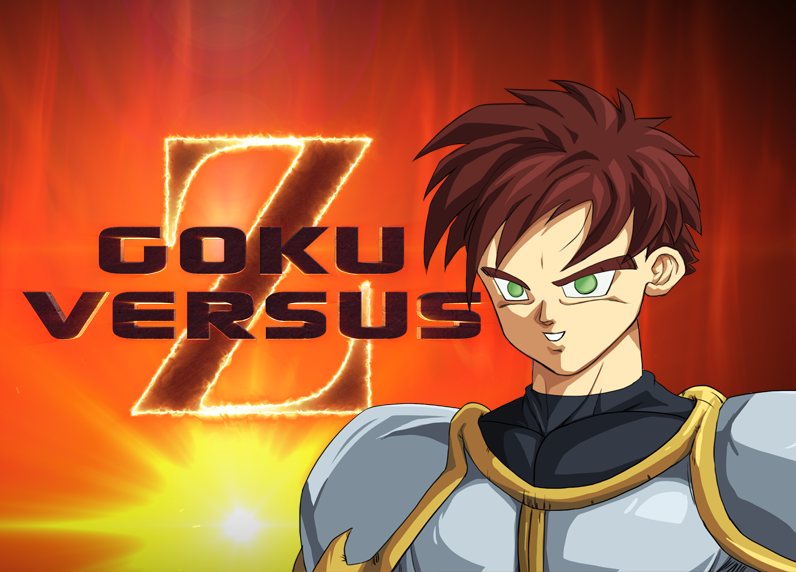 Goku Versus Z Collaboration [Project Power Revealed]
Friends, today it is my pleasure to announce the 9th and final installment in the Goku Versus series. Goku Versus Z. This animation is a massive collaboration animation for animators, spriters, and digital artists to participate and potentially win some awesome prizes. Read on for more awesomeness.
Project Power was Goku Versus Z
That's right. Project Power this whole time has been a code name for this super-duper secret project that is no longer so super-duper secret. Goku Versus Z will close the set of three trilogies in the Goku Versus series, it picks up where Goku vs. Evil Goku IV and Gokuu vs. NegaGoku leaves off and is considered a direct sequel to the 2011 hit animation Goku Versus. Before we get into more details on this massive collaboration animation, here is the promotional teaser trailer I just released today.
Collaboration of Monstrous Proportions
For the past two years (on and off) I've been working on preparing for Goku Versus Z. While I could get into all the specifics of what had to be completed before I announced it, I won't waste any time on that. One of the biggest things I had to wrestle in my mind this whole time was "how am I going to pull off a huge project like this?"
I think I've simplified this as much as possible. If you are a Flash Animator, After Effects Animator, 2D Digital Spriter, or a Digital Artist – I need your help. We as a collective of artistic individuals contributing to this project need your help. I've put together one massive file called the Master Z File, that contains everything everyone needs if they are looking to submit to Goku Versus Z. This file is the backbone- the Holy Bible- of this entire project. This ZIP file contains the Official Submission Guidelines, promotional materials (logos, backgrounds, etc…), background/scene sprites for animators, and examples of work one can submit to Goku Versus Z.
How does submission work?
While I encourage you all to read the Guidelines carefully, here is a brief overview of how this will work:
When you submit (by email) to any of the four categories (After Effects, Flash, Sprite, or Digital Art) and follow the guidelines, your work will be featured in Goku Versus Z

You can submit as many entries as you want, to any category you want, provided the work you submit is a new artistic piece
No guarantee will be made that your work will be featured but I will do my best to included everyone
By default when you submit your work, you are giving me permission to use it in Goku Versus Z

Every time you submit to a category your artistic piece is automatically entered to potentially win for the category you submit to

The four categories mentioned above will all have a winner from each category (4 winners in total)
If an individual submits to more than one category and wins, they will only win in one category, and not multiple categories

The winner from each category will receive all of these FREE prizes listed below

1 DBZ Funko Pop Super Saiyan God Goku Figure
1 DBZ Funko Pop Super Saiyan Blue Goku Figure
1 Exclusive Goku Versus Z t-shirt (design to be revealed)
1 DBZ Scouter (colors will vary)
How does my work fit into the Goku Versus Z animation?
I've left open ended areas in the script specifically for folks who are submitting. Below is how this will work:
Spriters – Will submit a sprite sheet of Goku that I will animate with
After Effects Animators – Will submit a short animation using 3 or more Goku's fighting using the scene sprites I've provided in the Master Z File 
Flash Animators – Will submit a short animation using 3 or more Goku's fighting using the scene sprites I've provided in the Master Z File
Digital Artists – Will submit an artistic digital art piece that will be featured in the closing credits
All of the specifics for each category are outlined in the Master Z File, so please ensure you read and follow the directions carefully.
Only Goku
Because this animation deals with multiple universes and only focuses on Goku, all of your work (for every category) must only contain the character Goku. I have an entire section in the Submission Guidelines that talks about how you can alter his appearance. You can be as creative as you want with designing your own unique version of Goku to really make him stand out. That also brings up his design. While the previous installment of Goku Versus only used LSW based sprites, this animation has no limits. You can use any style of sprite from any Dragonball game or create your own custom Goku sprite. If you are submitting digital art, think about clashing different artistic styles of Goku fighting one another.
Backstory
The entire Goku Versus saga revolves around the idea of alternate universes, and what would happen if Gokus from other universes encountered and fought each other. In the prequel, Goku Versus, Gokus from different universes all were brought to a single planet where they ended up fighting each other. However, the universe in which this massive showdown took place ended up altering the appearance of every Goku turning them into small chibi like versions of themselves.
In Goku Versus Z, an event has taken place…. Gokus from different universes are once again being thrown into a single dimension causing disorder, only this time their form is not being alerted. A disruption in this massive battle royal will cause an unthinkable enemy to emerge. One with the power to transverse universes and end all life in every universe in existence.
In Conclusion
While I can sit here for hours explaining things, that would defeat the purpose of the Master Z File. Everyone who is submitting or thinking of submitting PLEASE download and review the Submission Guidelines that are in the Master Z File and check out the other materials I've supplied for you. Additionally, If you know anyone who is an animator or an artist, PLEASE point them to this article or to my Goku Versus Z promotional website. I need your help promoting this collaboration. Please share this announcement out on your social media channels, I would be so humbled and appreciative of that. The more people who see this announcement and contribute to its success, the more likely it will be a huge hit. If you are submitting something, do your absolute BEST. Let's make this animation something truly epic.
I look forward to working with you and seeing what awesome things you can come up with. 🙂